Weekly 1 Time Per Day Modular Pill Box
Regular price
$180.00 USD
Regular price
Sale price
$180.00 USD
Unit price
per
Sale
Sold out
Please allow us 1-5 business days for order preparation.
Weekly 1 time per day modular pill box will help you to keep track of your medications.
A caring gift for those, who are always busy or like to keep things in order. Stay healthy!
The solid wood base holds the locking magnetic mechanism for secure storage pills inside each case.
Many vitamins and medications deteriorate when exposed to light. Each pill case provides storage in a dark environment. The top of each case holds in close place by magnets. Your pills and vitamins will stay securely in the box. 
Stay healthy and Join The Nature!
Pill Box Weekly Brief Overview
7 days x 1 time per day medicine pill organizer

Eco-friendly Natural wooden material

Natural wood color

The highest quality

Can be personalized

Made in Ukraine
Pill Organizer Weekly Details
Wood type - Oak Wood

The color of the daily modular pill box might be a bit lighter or darker because it's made of natural wood

Lid design: without edges, with integrated magnets       

Comfortable taking off pills from pillbox cell

total pill compartment capacity - 21 compartment
Weekly Pill Box Organizer Dimensions
Compartment size, inside each  pill case 
           Size (WxHxD): 0.94x1.65x0.78in (2.4x4.2x2cm)
Each pilll case dimensions 
           Size (WxHxL): 1.73x1.38x2.87in  (4.4x3.5x7.3cm) 
            Weight:  0.16 lb (70g)
           Size (WxHxL): 3.94x2.3x14.56in  (10x2.3x37cm) 
           Weight:  1 lb (500g)
Total modular pill organizer dimensions:  
           Size (WxHxL): 3.94x1.97x14.56in  (10x1.97x37cm) 
           Weight:  2 lb (1kg)


   Top wood                   Wood natural colors
Pocket Pill Box Personalization
If you have any special requirements for the logo, please, let us know. We will gladly follow your request. 
Engraving initials means up to 3 letters. The location for it is in the bottom right corner.
Add Text means engraving your text. The location for it on one side of the base. If you want to change the text location, please tell us.
Personalized items cannot be replaced or returned.
More About the Pill Box Wood
Basically, wood is a natural living product it can be a little unruly; knots, streaking, other blemishes, and flaws in the grain can occur during the natural growth of the tree. We at JTNlab, believe these imperfections add a uniqueness to our products and LOVE us some rebellious wood grain or an interesting knot here or there that doesn't interfere with the use of the item. 
Thanks to special finishing wood become more durable and tight. JTNlab goods are finished with a combination of transparent natural waxes and oils, which makes the wood more durable and tight with a smooth to a touch effect. Every piece made of natural wood has unique shades and nuances, which are a mark of genuineness.
For longer use wooden goods, do not keep them in a humid place (such as a bathroom).  In such places, wood will absorb moisture and wooden goods will not work well and can change their appearance. Keep in mind that natural wood can expand and contract due to sudden temperature changes, and this will affect the functionality of the wooden goods. We recommend keeping the wooden goods in both warm and dry places that have no moisture.
Dried ash wood ( black wood )has its own specific natural smell that not everyone may like. Each JTNlab product is handmade, and may slightly vary in color, finish, and size.
Wooden goods are smooth to the touch, simply wipe with a damp cloth if it becomes dirty. 
Why pill box cute?
There's just something about a little colorful box with compartments for each day of the week that is so darn cute. Plus, it's really helpful to have all your medications organized and separated in one place so you don't forget to take them. I'm sure there are plenty of other reasons people like pill boxes, but those are two of the top reasons for me!
Is pill box safe?
There's no one definitive answer to this question since everyone's body and circumstances are different. However, in general, a pill box can be a safe way to organize and take your medications, as long as you're careful to follow the manufacturer's instructions.

For example, if you have trouble with dexterity or vision, make sure to choose a pill box that has large enough openings and is easy to see. Also, be sure to fill each day's compartment with the correct medications and dosages, and always check the labels before taking any medication.
Can you take a pill box on airplane?
Yes, you are allowed to bring a pill box on an airplane. It is considered a personal item, like a purse or laptop.

The TSA has a very specific list of items that are not allowed in carry-on luggage, and medications are not included on that list. So as long as your medication is in its original packaging and you have a prescription or letter from your doctor confirming that the medication is for personal use, you should be able to bring it on the plane with you.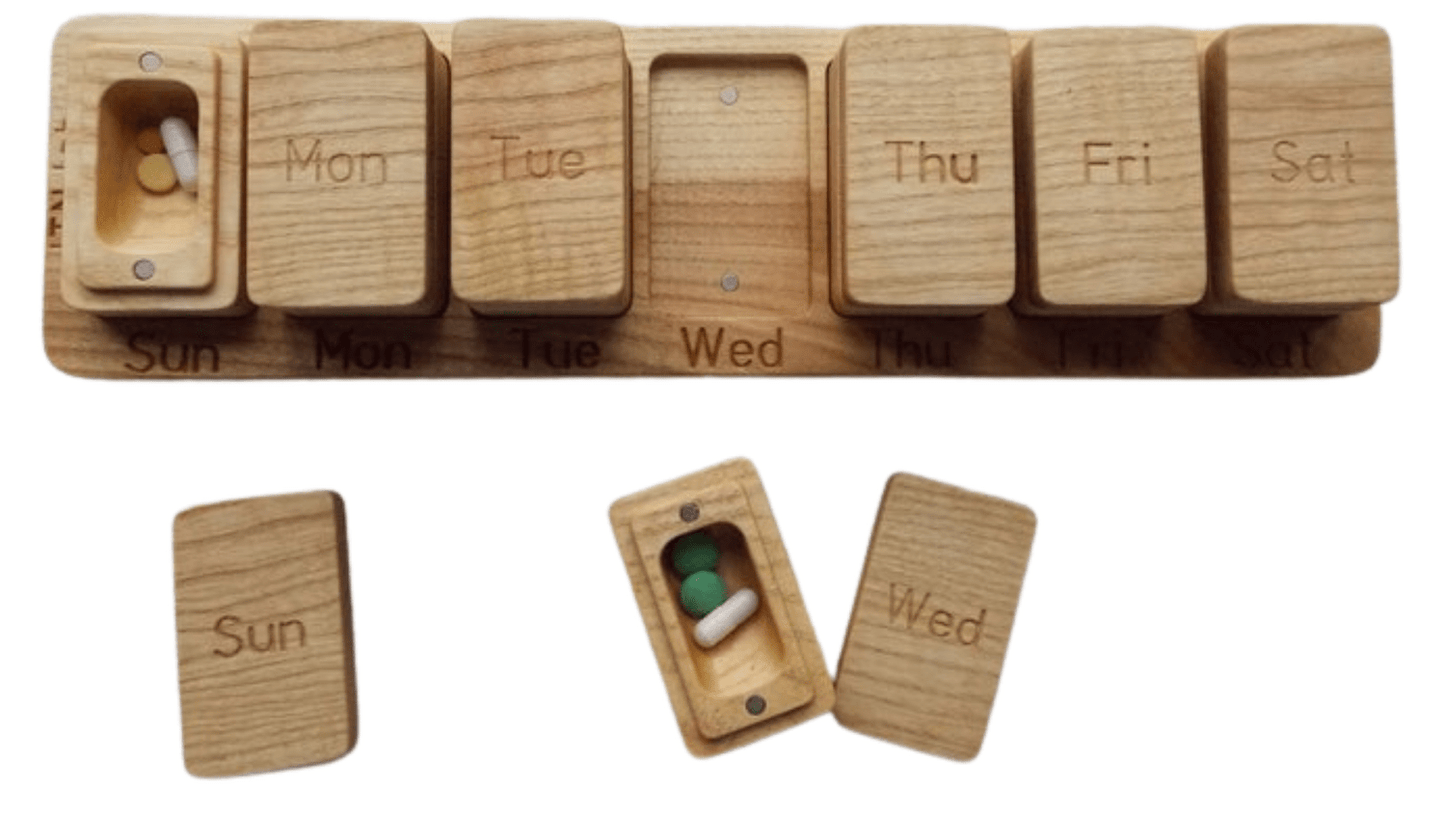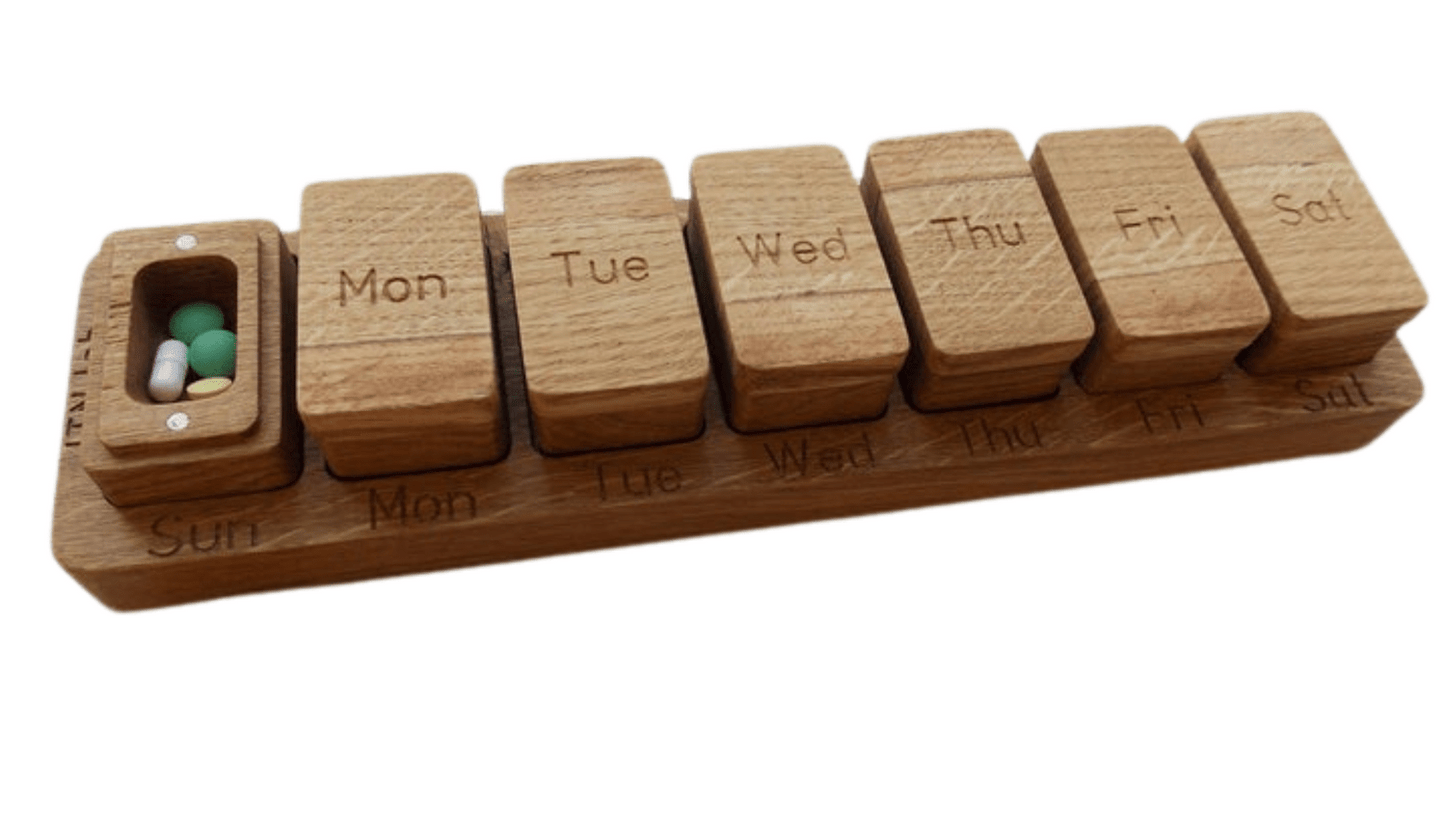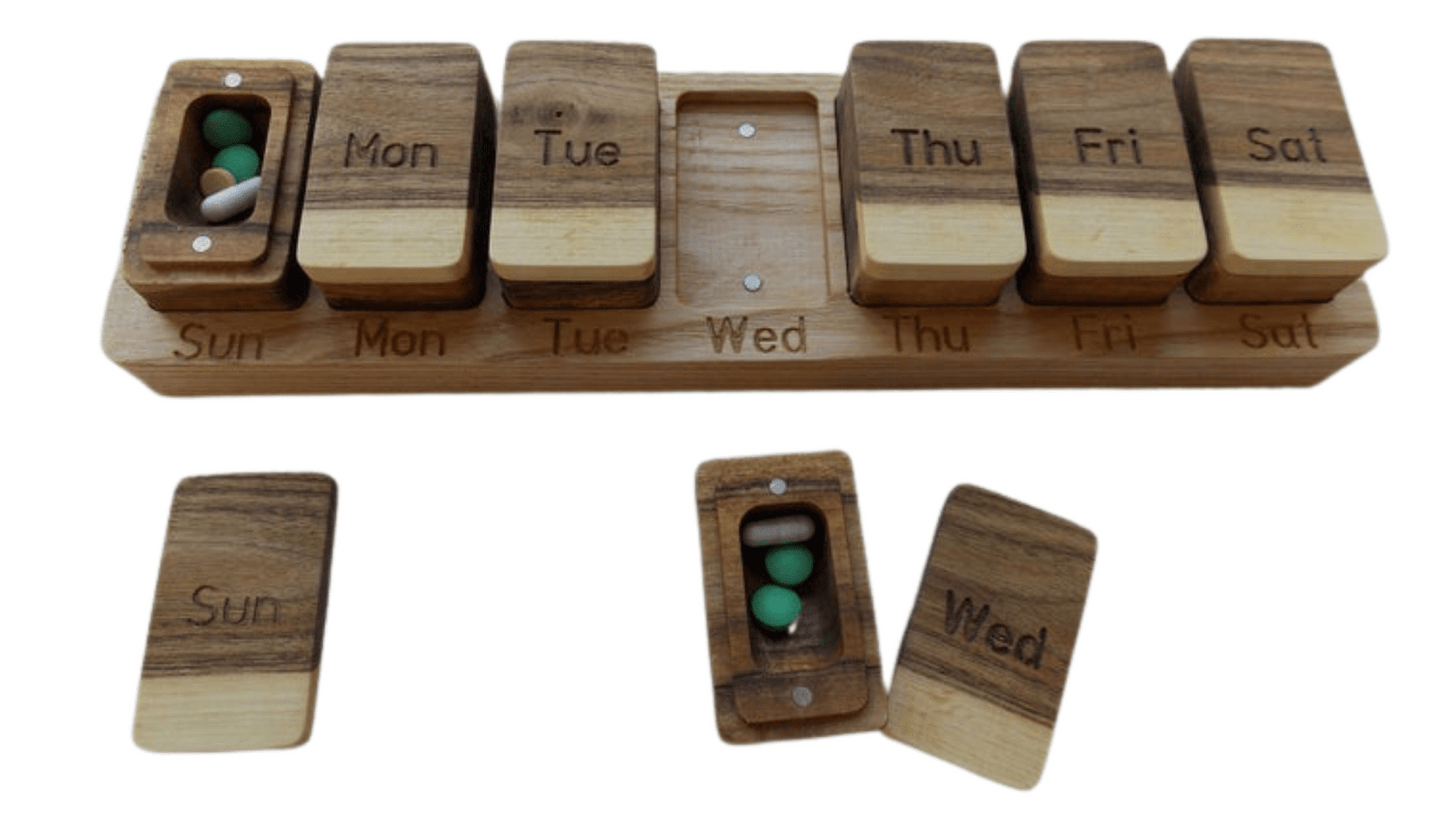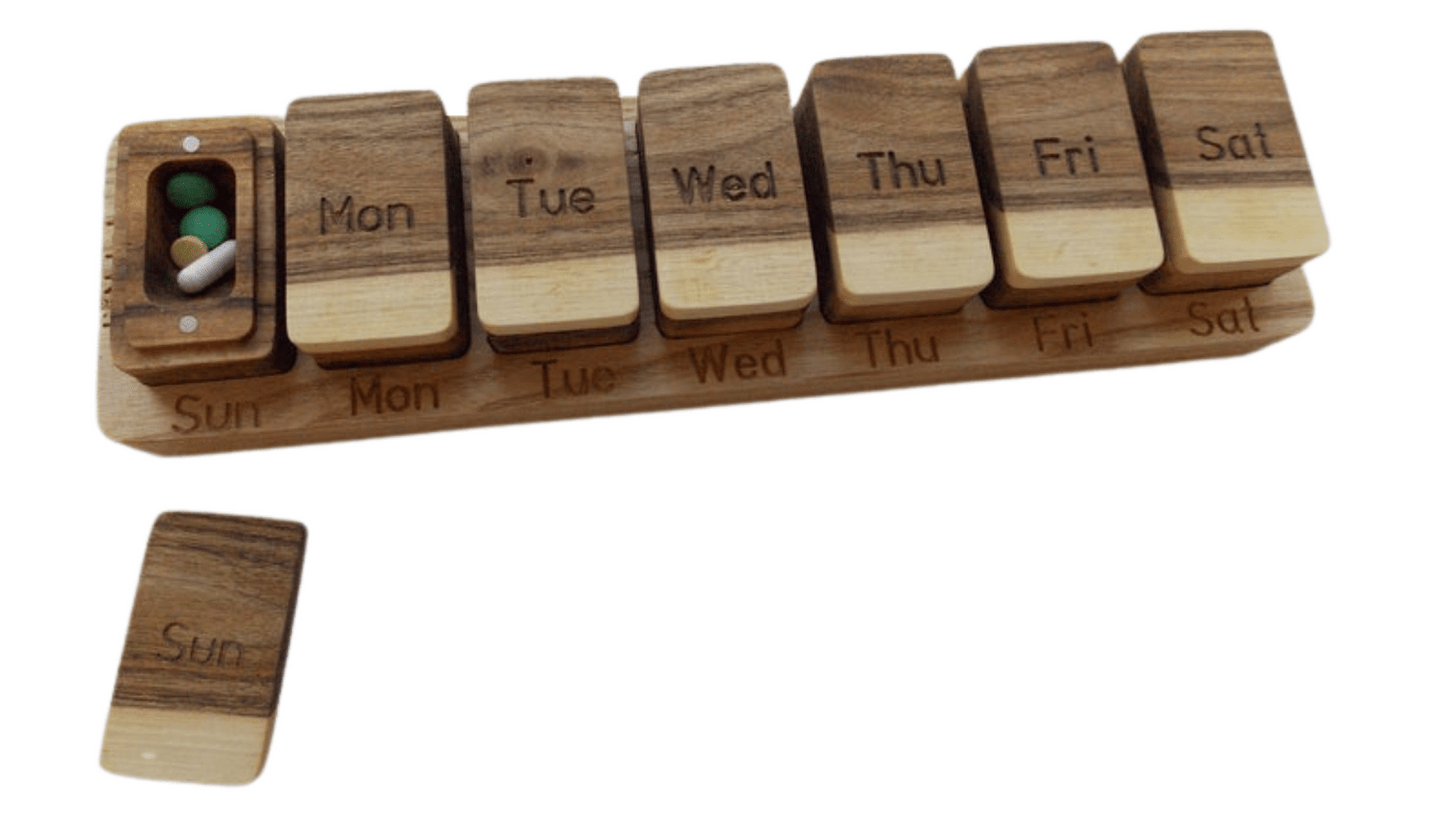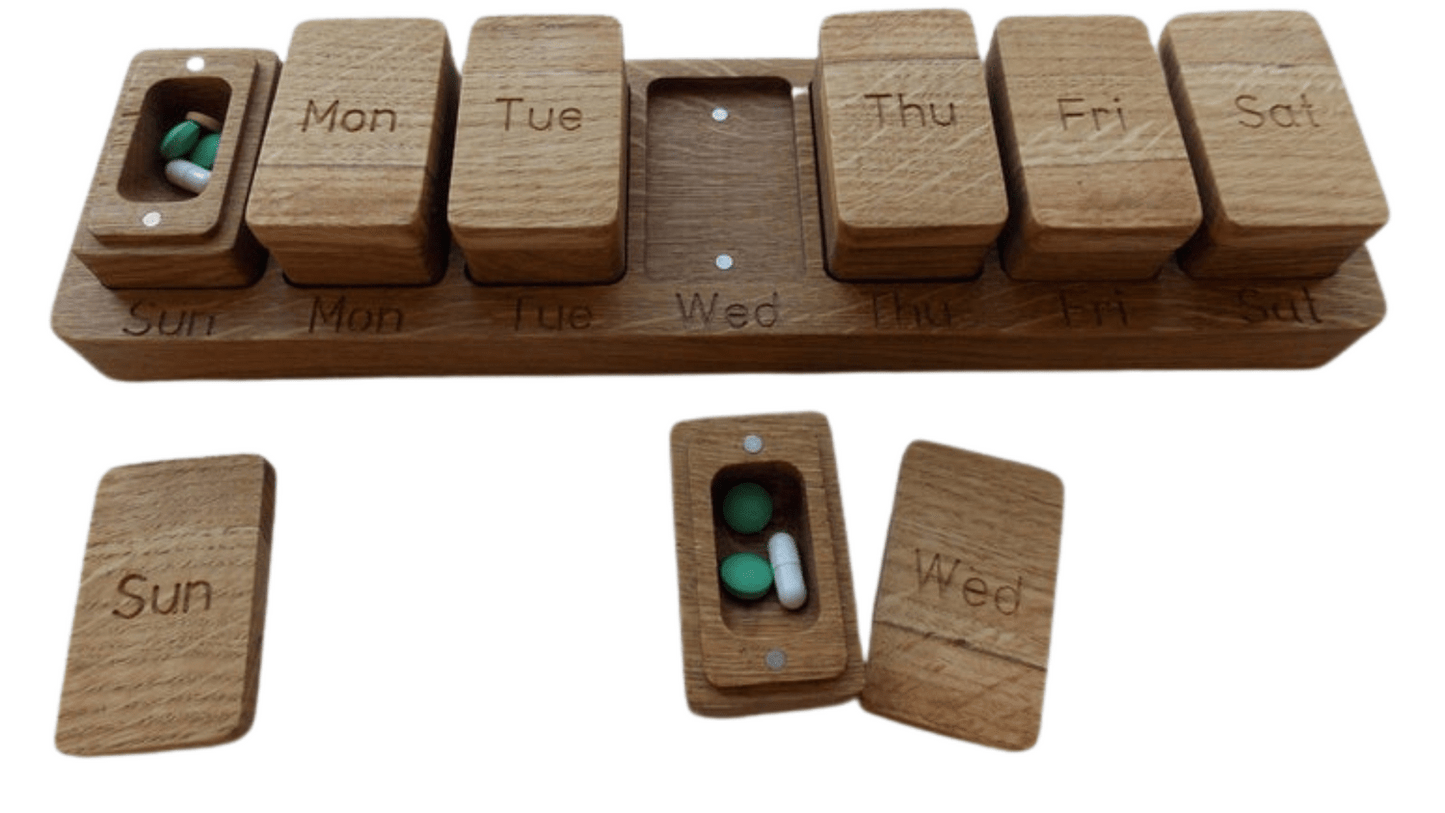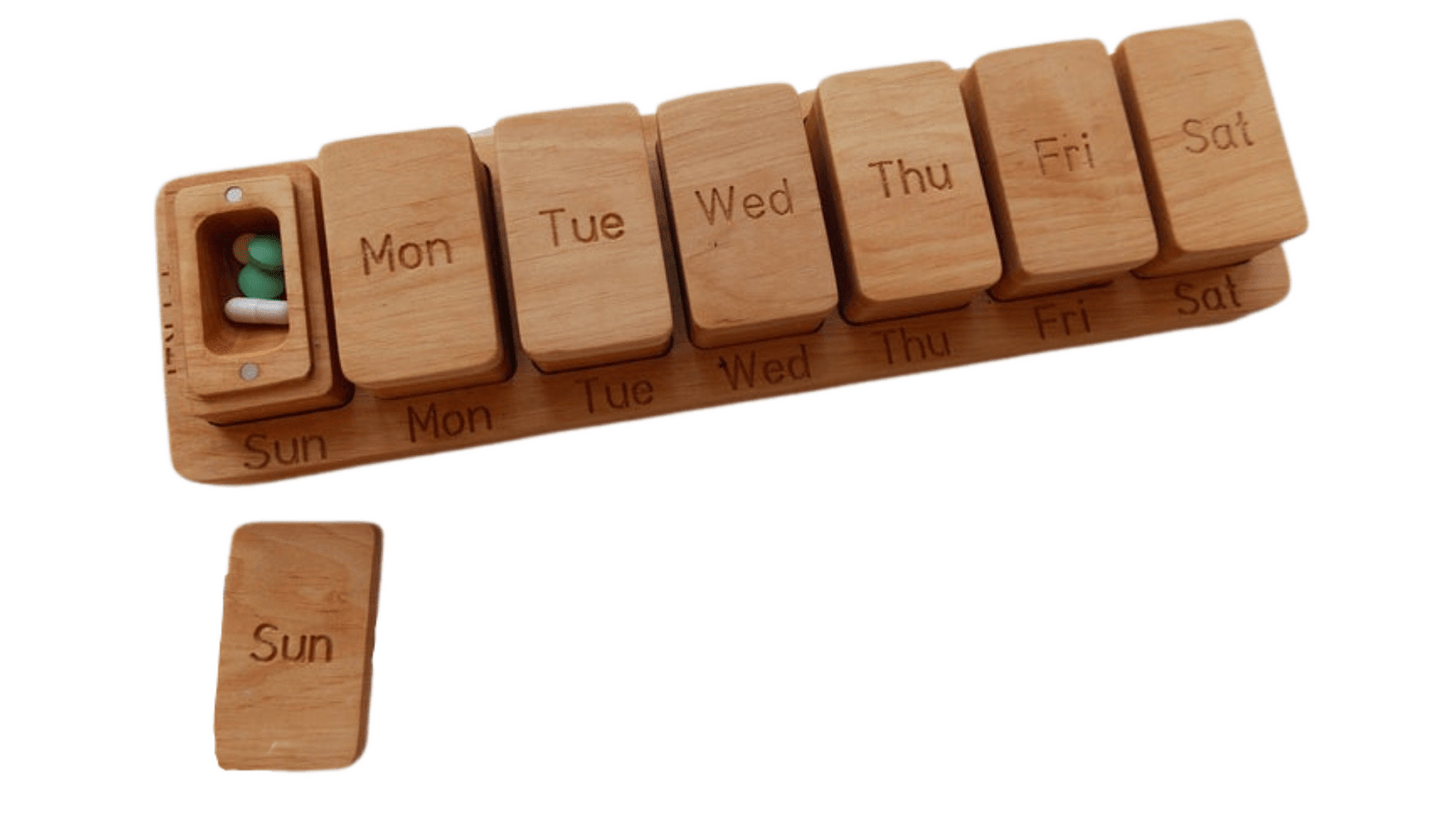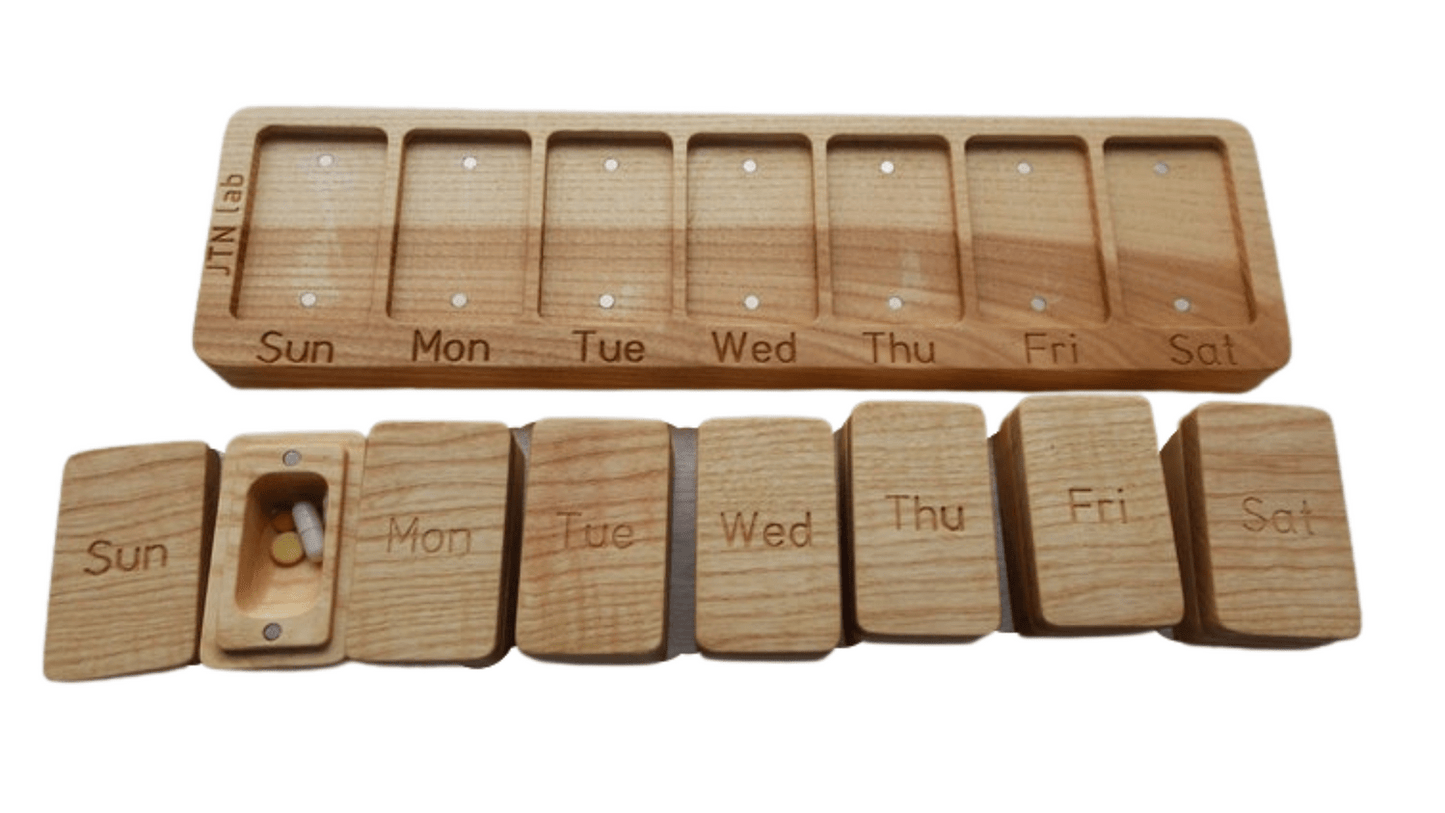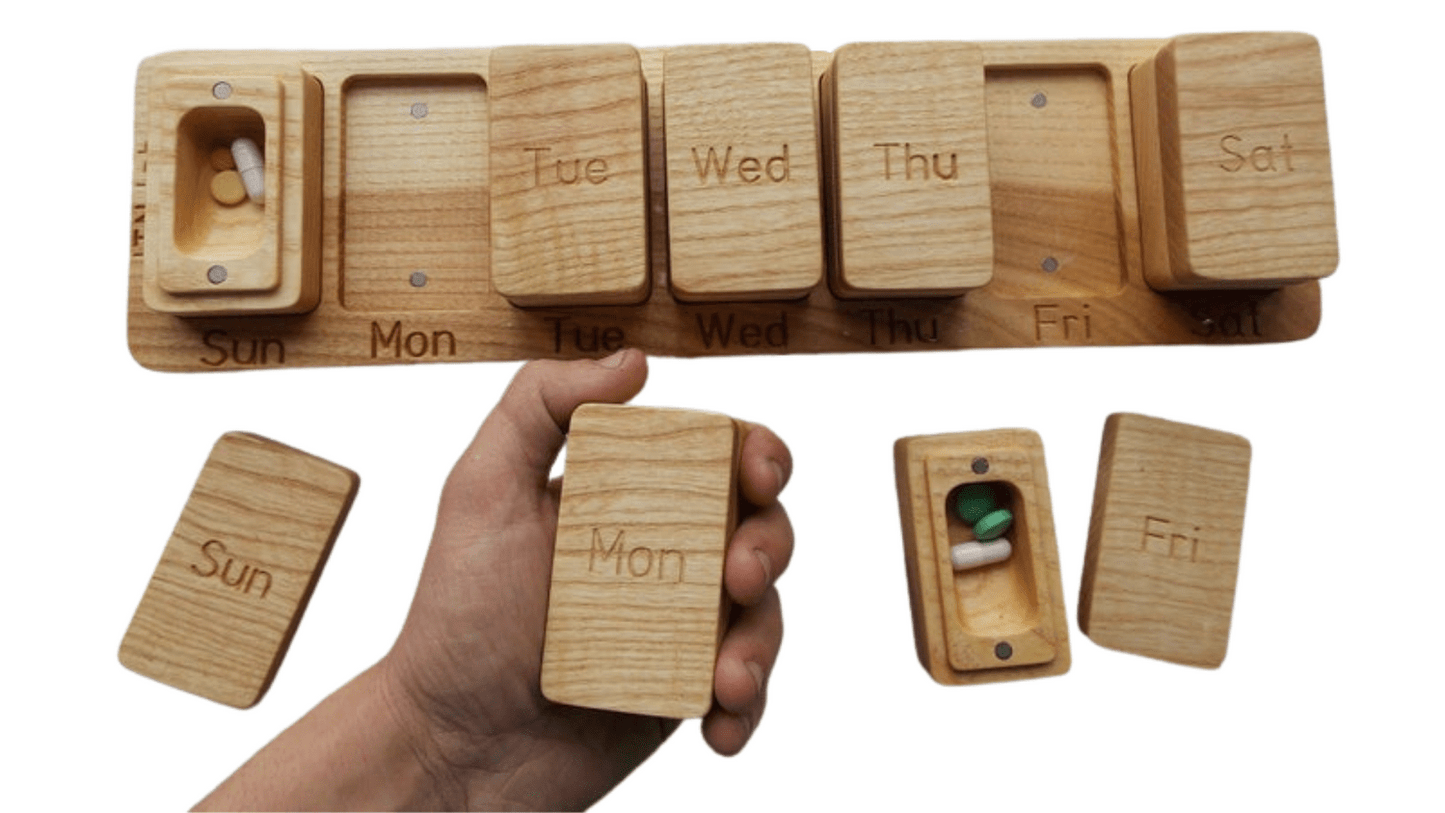 This was my 2nd purchase from Roman. (You can check out my other long review with a photo for the modular 4x daily pillbox). I have never been happier to pay a higher price tag for a pillbox. Not just because organizing medications are important and Roman's boxes are made of high quality wood/magnet materials, and are super practical and durable. So much room and love the magnet lids! I love how I can move the boxes around and the magnets are so strong. Hate the plastic ones. But Roman really is the nicest, most accommodating seller on Etsy. I have messaged him so much for both of my purchases regarding questions and requests I needed help with. He went out of his way to help me plus show me personal appreciation for my kind review ❤️. That to me is worth having my business over a billion dollar impersonal company like amazon.