Pill Case Organizer Large Weekly Pill Box Morning Lunch Evening
Review

In September of 2018 I had emergency open heart surgery for a congenital condition I didn't know I had. Because I was given a mechanical aortic valve, I need to be on Coumadin ( warfarin) for life. So, every day I would take these little life- saving pills from a little plastic pill organizer given to me at the hospital. I've never been on medicines and never wanted to be and went on the lookout for the most beautiful pill organizer I could find. I decided that if this was a life- time daily ritual, why not make it full of beauty, love and joy so that every time I looked at the box, it made me feel happy and healthy rather than a reminder of sickness or side effects. Of all the organizers I saw, nothing compared to these gorgeous pieces of art that Roman makes. Being able to choose the wood and design and engrave a meaningful carving was so special and the piece was SO very beautiful I ended up buying these as gifts for other friends who have gone through similar medical issues as mine and they all love theirs too! I chose bird carvings on maple wood that says "Health, Love, Joy" and that is exactly how I feel every day when my alarm goes off and it's time to take my medicine. I love it. I am so completely impressed and touched that Roman takes such care to bring beauty to this simple ritual - it has completely transformed how I feel about taking these little green pills every day. Not only that, the box is so lovely I display it on my dresser with my most precious things… and when people come over they comment on the beauty and are always amazed and surprised at the detail and love you can feel in a pill organizer! It's brilliant! And beautiful! I recommend these to everyone who takes pills or supplements. They are first class pieces of art and completely functional and sturdy. I never planned or wanted to take medicine, but because of these pill organizers, it feels like a blessing every single day I open it up.
Regular price
$125.00 USD
Regular price
$150.00 USD
Sale price
$125.00 USD
Unit price
per
Sale
Sold out
Please allow us 1-5 business days for order preparation.
Pill Case Organizer Description 
Wooden pill box 3 times day with morning lunch evening will help you to keep track of your medications.

A caring gift for those, who are always busy or like to keep things in order. Stay healthy!
Features & specifications:
• Wood types: ash wood, walnut wood, oak wood, cherry wood
• Lid design: without edges, with magnets
• Cell shape: rounded corners, with slate on the front
• Cell count: 21, with weekday marks starting from Sunday
Dimensions
• Height: 2.80cm / 1.10in
• Width: 19.60cm / 7.71in
• Depth: 16сm / 6.2in
• Weight:400g

• Cell width: 2.0cm / 0.8in
• Cell height: 3.4cm / 1.33in
• Cell depth: 2.10cm / 0.82in
LARGE SIZE
• Height: 2.80cm / 1.10in
• Width: 24cm / 9.44in
• Depth: 16сm / 6.2in
• Weight:500g
Dimensions of the box with a cell of 1 inch
• Cell width: 2.60cm / 1in
• Cell height: 4cm / 1.57in
• Cell depth: 1.80cm / 0.82in
Package contents
• Pill Box

Our team makes your life more eco-friendly by replacing plastic housings of everyday gadgets for wooden ones.
We only use solid wood and oil/wax (odorless, colorless or without traces on your hands) to protect matrial for prolonged use.

Also note, that each product is handmade, and may slightly vary in color, finish, and size.

WARNING !!!
Do not keep the box in a humid place (such as a bathroom) as the wood will absorb moisture and the box will not work or open well. Keep in mind that natural wood can expand and contract due to sudden changes in temperature, and this will affect the operation of the box. I recommend keeping the box in both warm and dry places that have no moisture.

Also note, each product is coated with natural oil to emphasize the richness of the wood texture and protect it, so sometimes the wood villi can rise from the oil coating, and it will seem that the wood is not sanded, but I assure you that the wood is very well sanded. And also on some types of wood there can be hardly appreciable smell from natural oil which in due course will disappear completely.Also, each product has a carved brand inscription JTNlab.
SKU: 847208958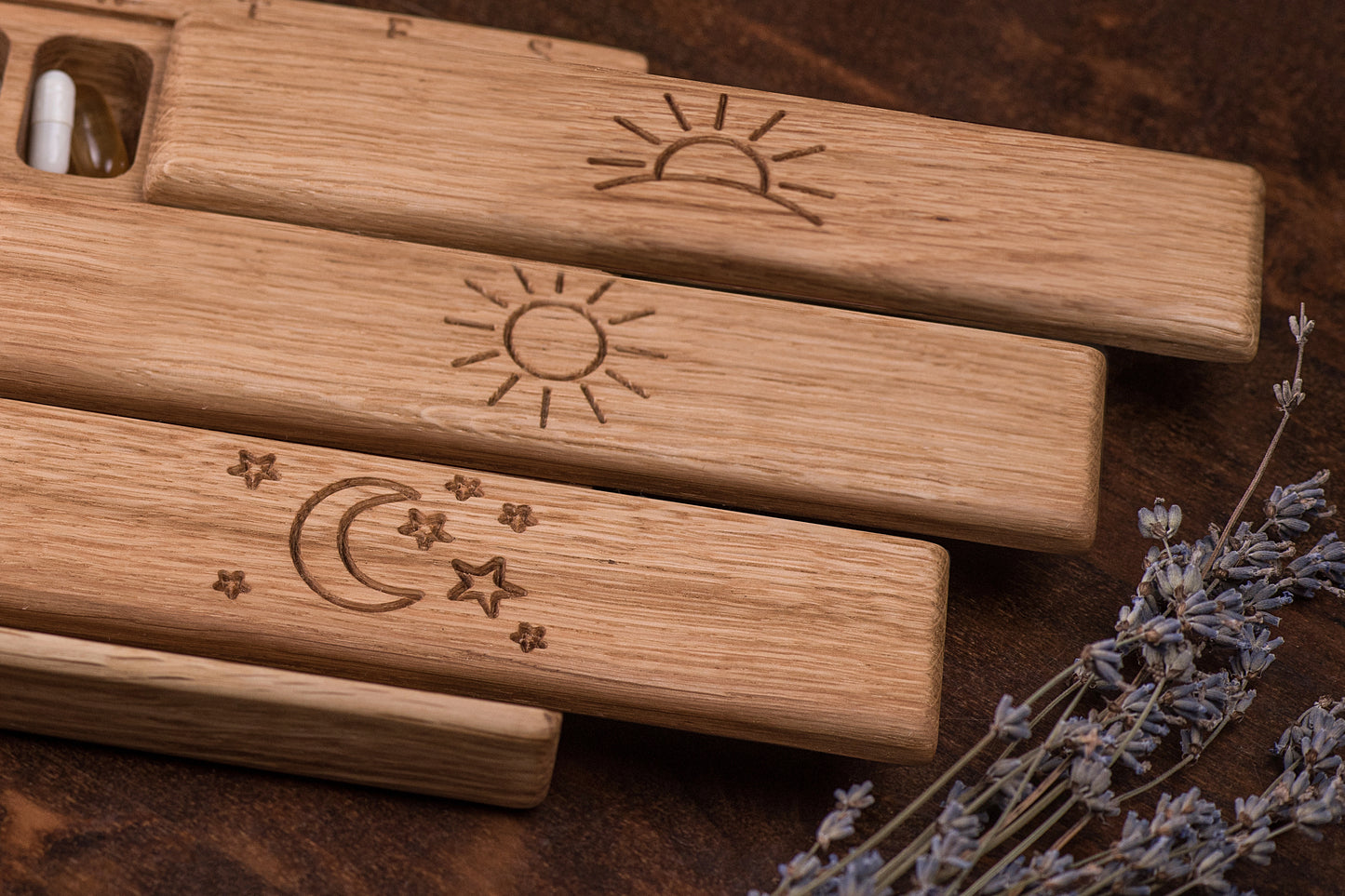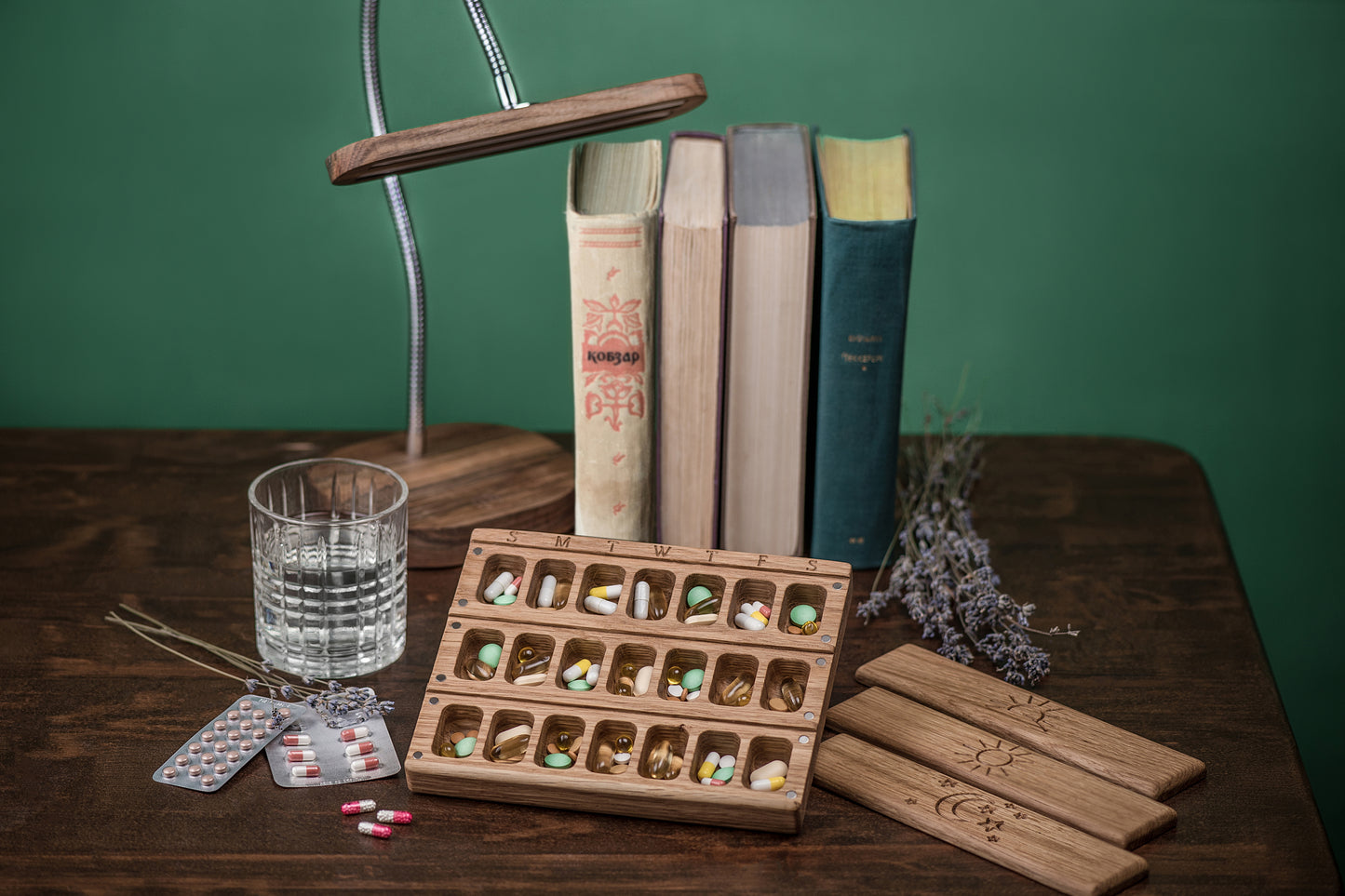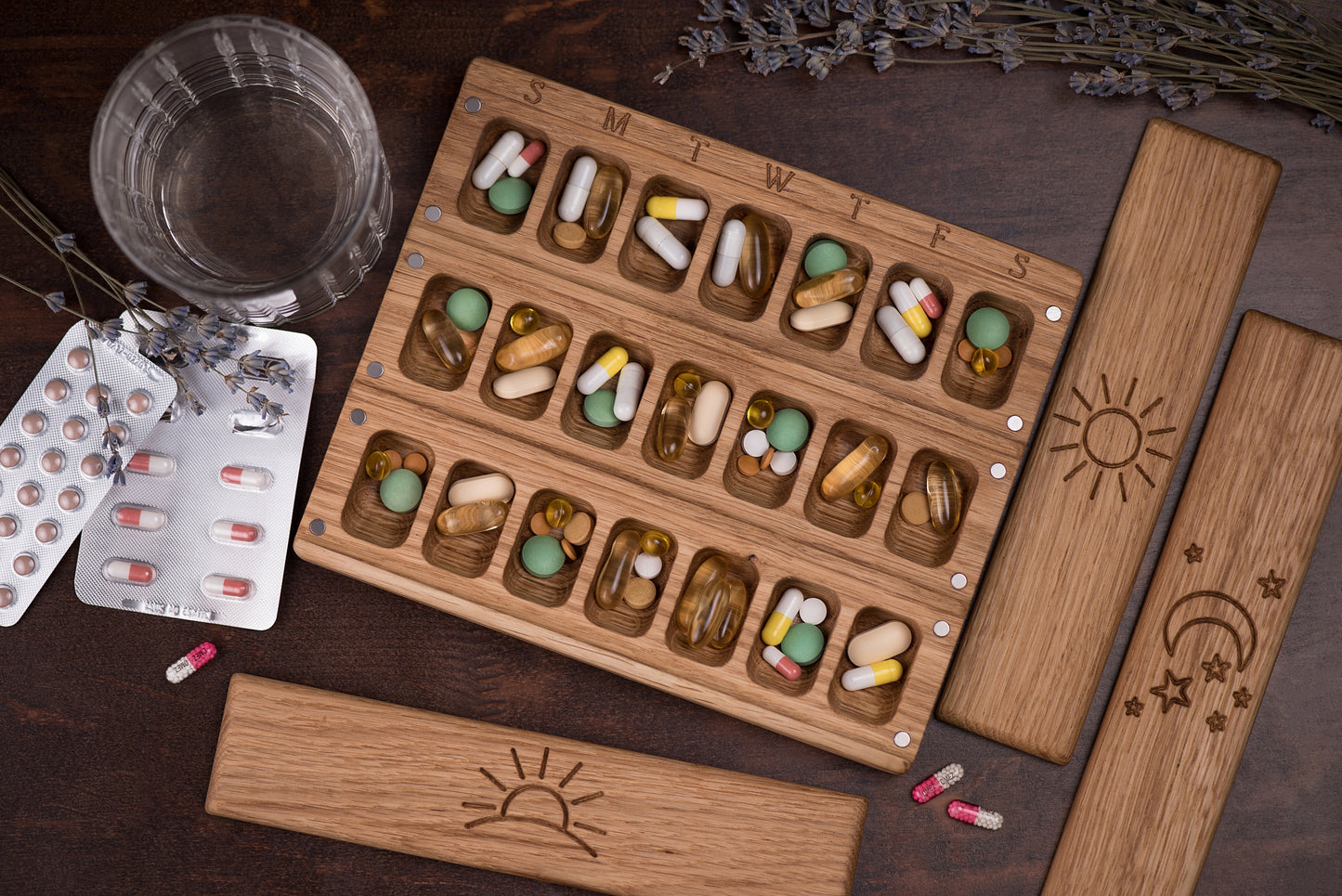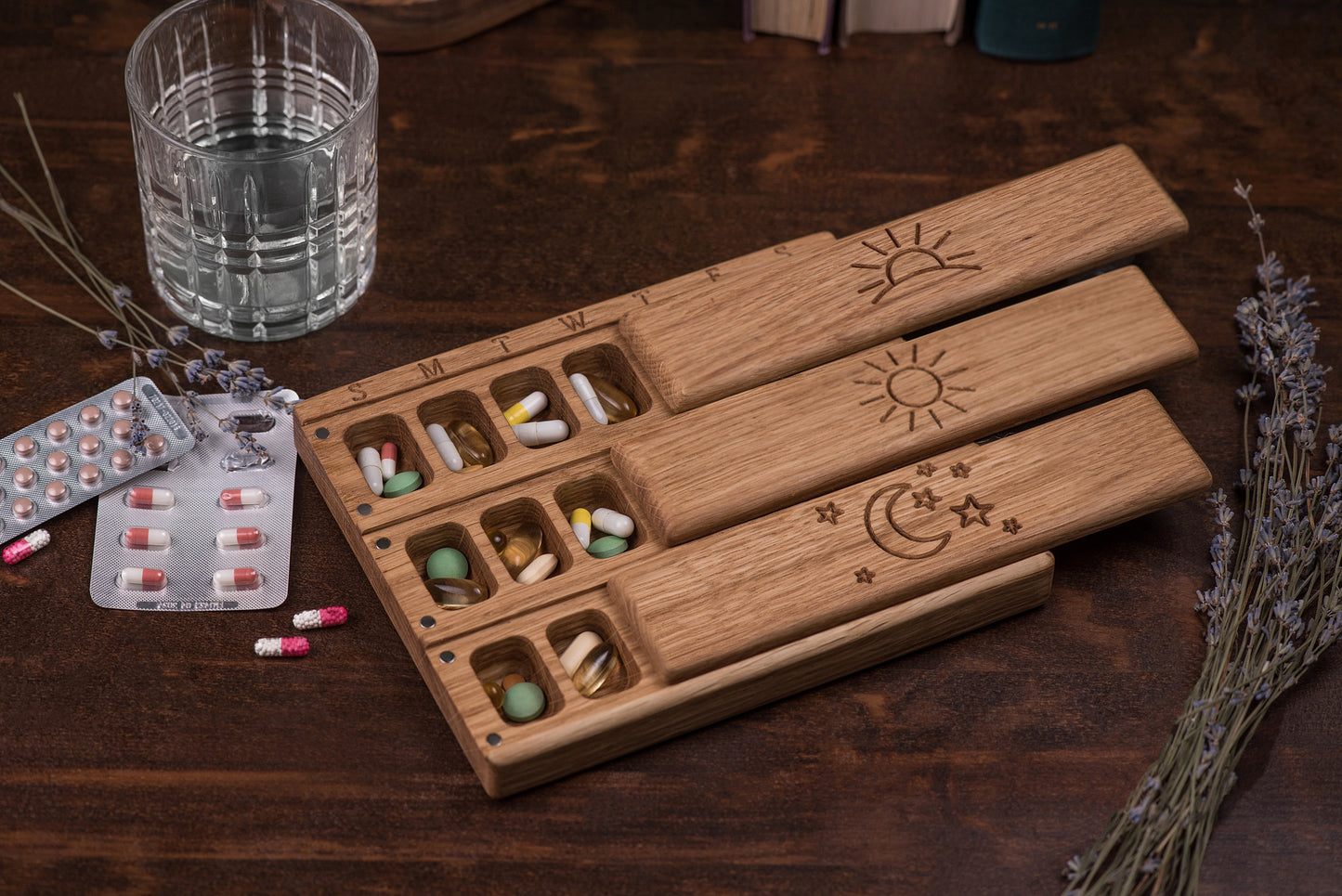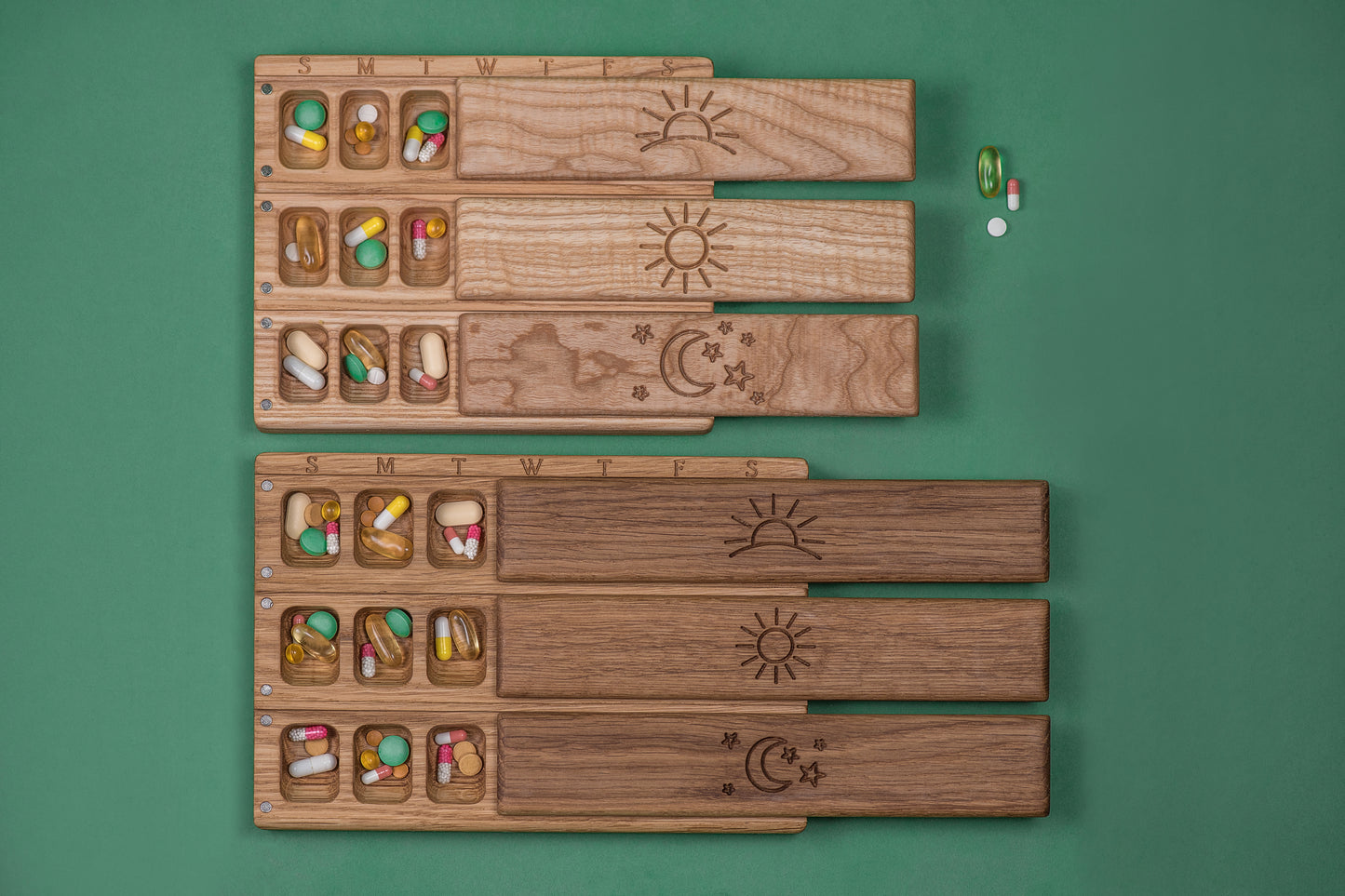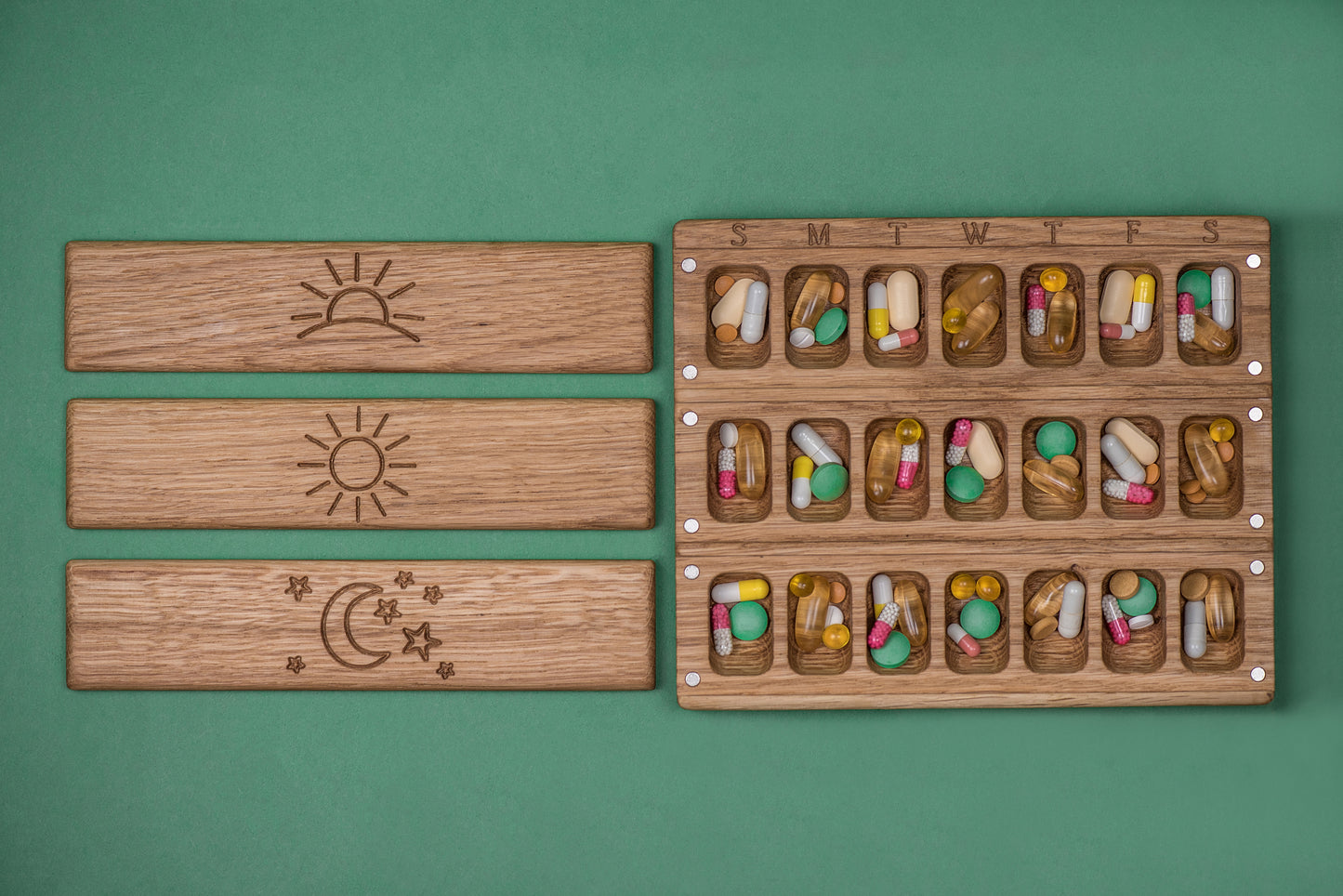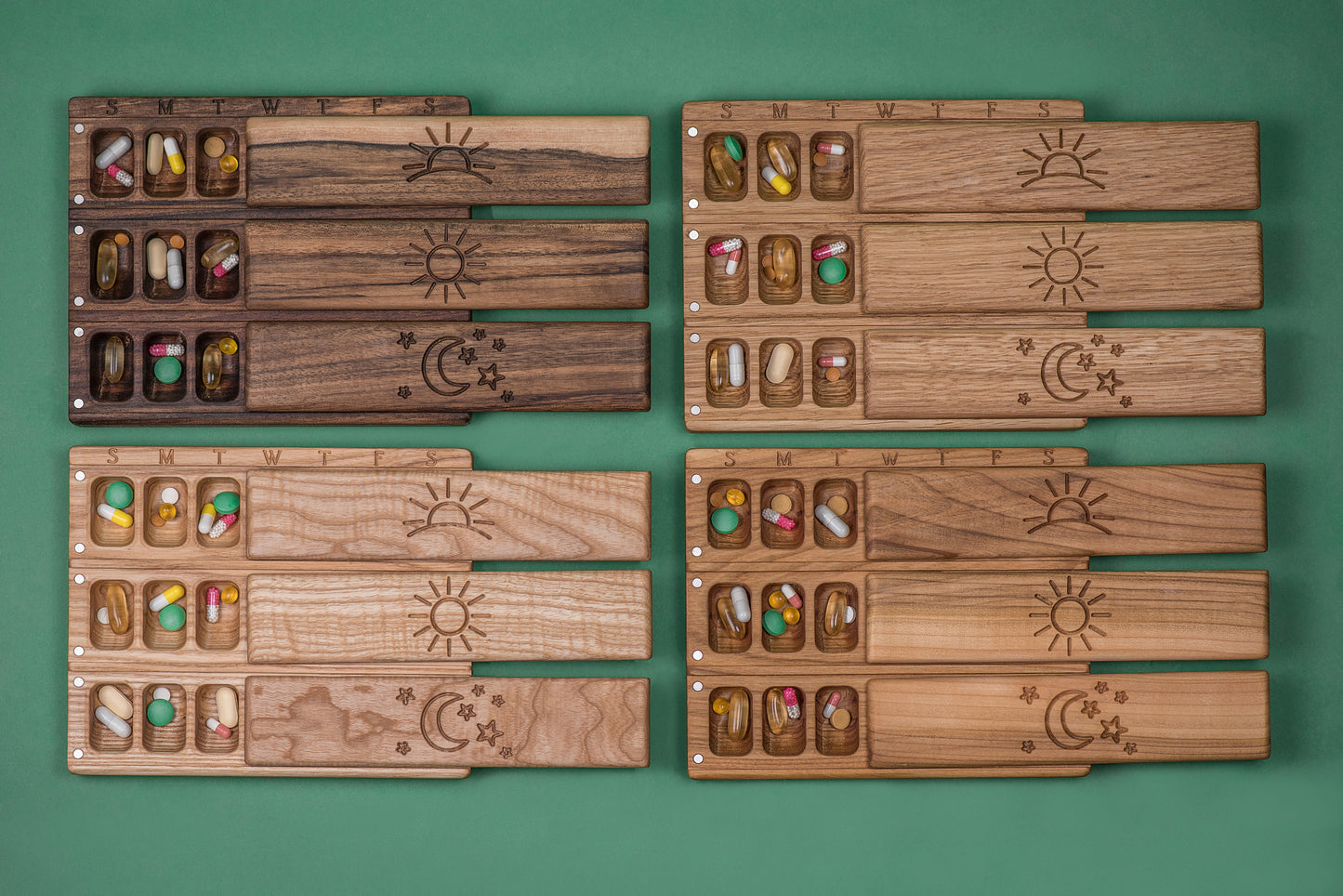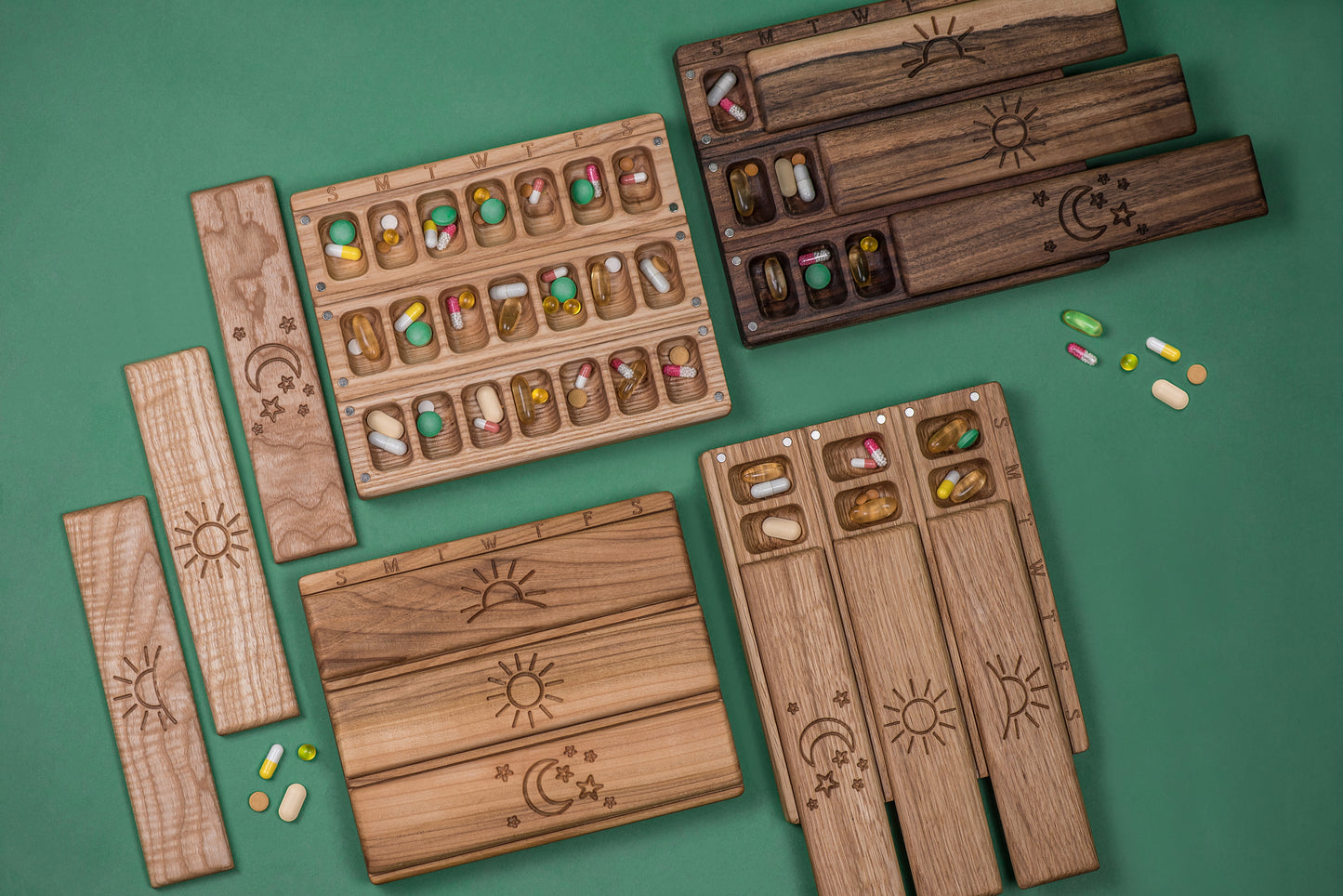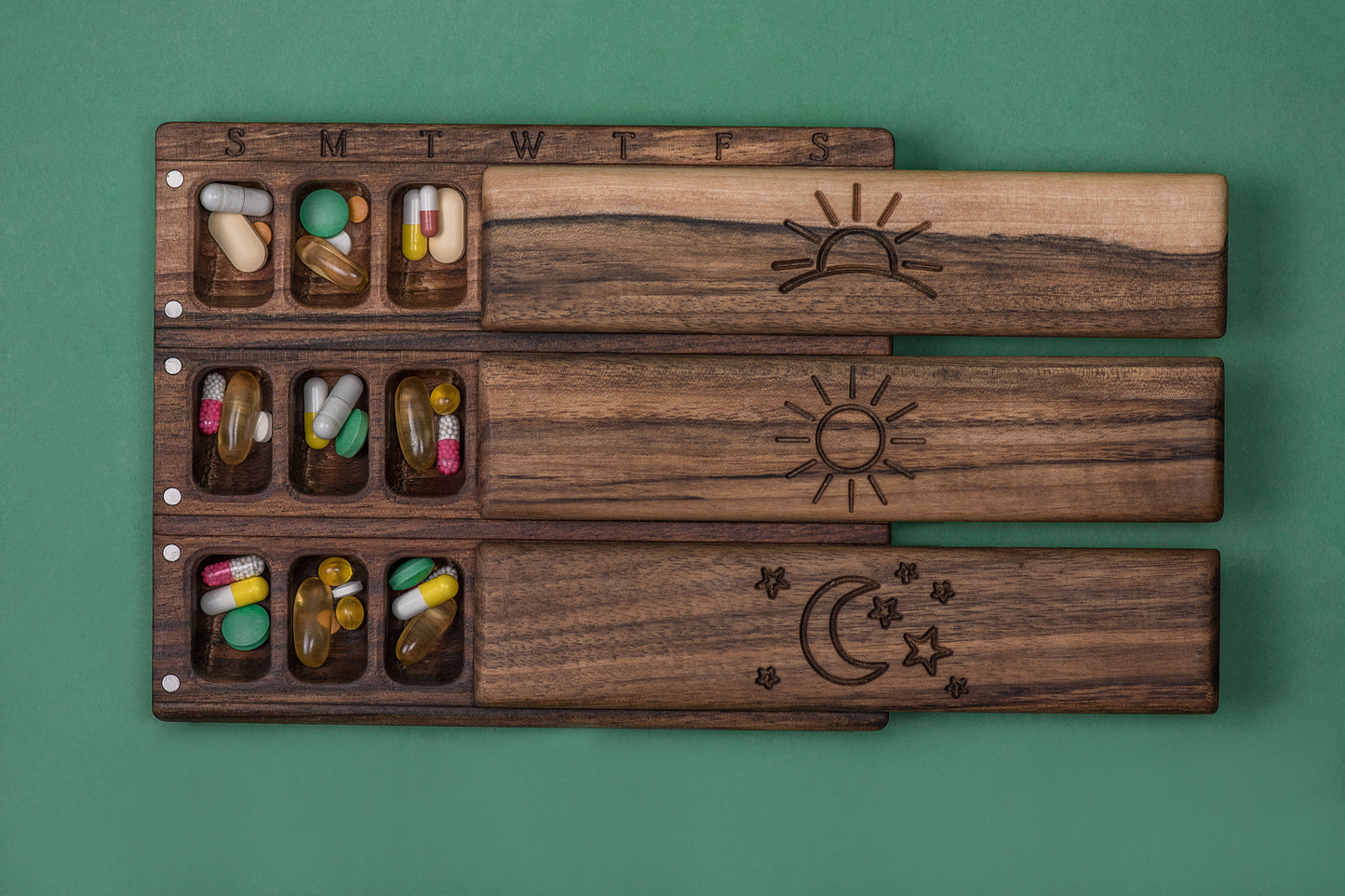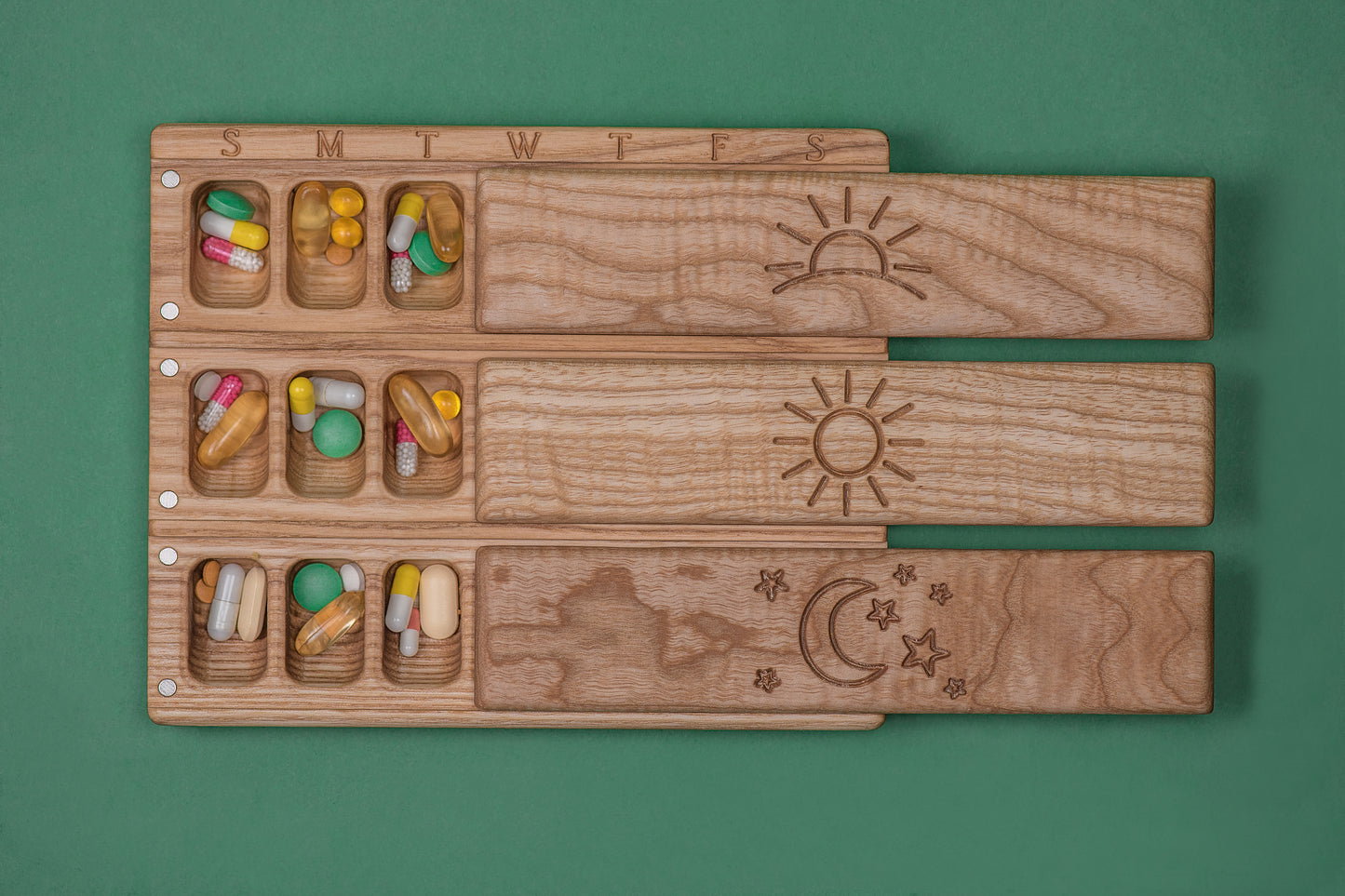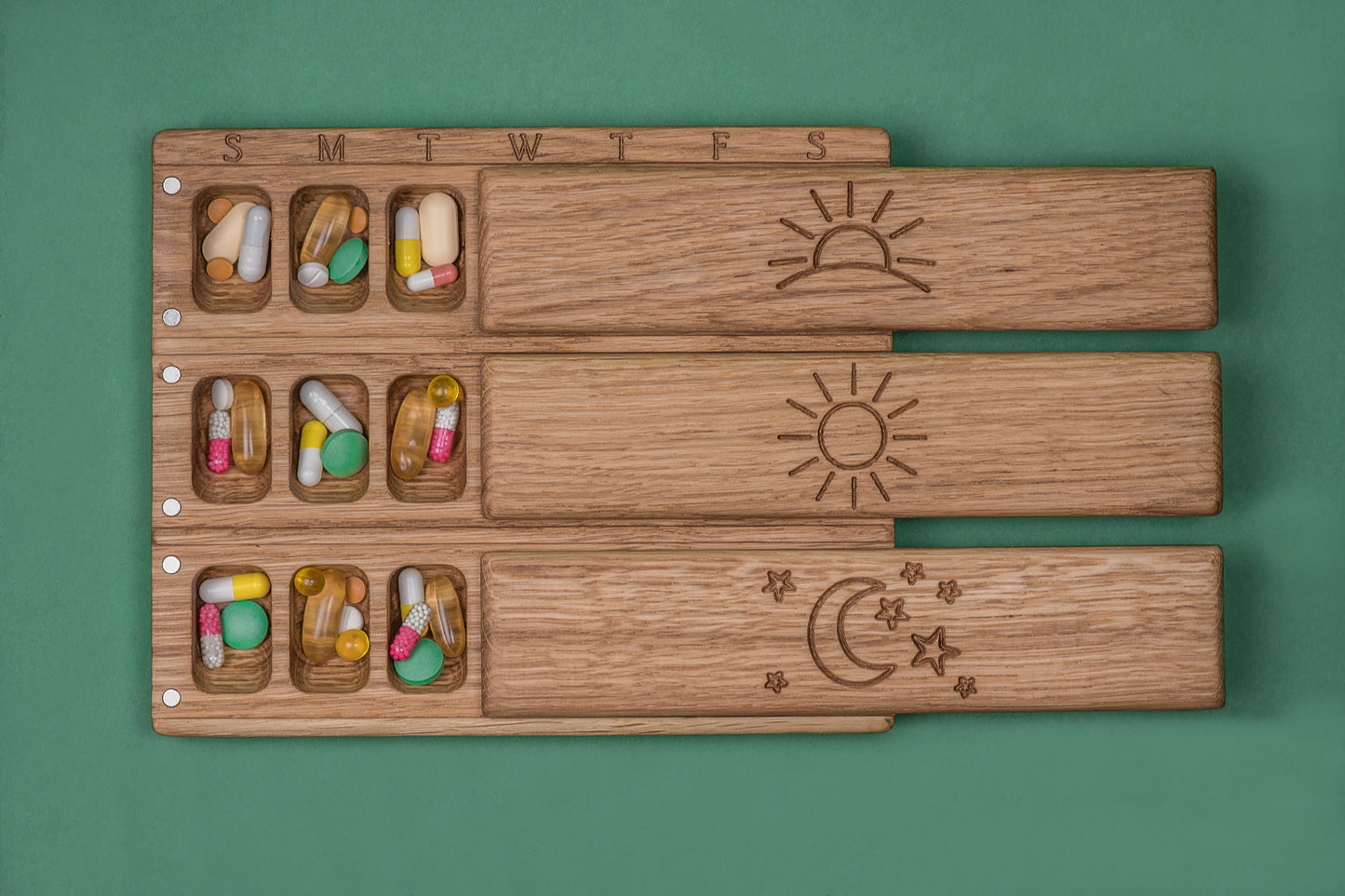 Very nice piece, meets our expectations
This is exactly what I was looking for! It's beautiful, functional, and helps me remember to take my meds.
The shipping was VERY fast, especially given the fact that is was international and came from Ukraine.
It did have a potent smell when I first opened it from finishing oils or something, but I let it sit out for a few days before use and haven't had any issues since.
Great high quality item and a communicative seller too! Thank you!
Met expectations. Fits the 4-5 supplements that I take daily. Looks way better on my counter than bottles.
Beautifully made pill case, pockets a good size for my daily medications. Really nicely crafted - thank you!
Fine craftsmanship and convenient. Serves its function with beauty and grace. Easy to maneuver and fill. Much better than a plastic dispenser.