Big Wooden Pill Box - Birds on Branch Wood Pill Box
Regular price
Sale price
$85.00 USD
Unit price
per
Sale
Sold out
Please allow us 1-5 business days for order preparation.
This depth pattern pillbox is great for those who need to take pills every day and keep them organized.
A Weekly wooden BIG pillbox with Natural type of wood ornament Birds on Brunch ( will help you to keep track of your medications. The solid wood base holds the locking magnetic mechanism for secure storage. A caring gift for those, who are always busy or like to keep things in order. 
Many vitamins and medications deteriorate when exposed to light. This box provides storage in a dark environment. To use the box, simply slide the lid to expose the day of the week with the pills you want and tip them out onto your hand, holding the lid over the compartments you don't want to be tipped. The top of the box slides on the bottom and is held in place by magnets. Your pills and vitamins will stay securely in the box. 
Join_the_Nature and Stay healthy!
Pill Box Brief Overview
7 days x 1 pill cell organizer

Natural wooden material (solid wood)

Natural wood color

The highest quality

Can be personalized
Wooden Pill Box Details
The color of the map might be a bit lighter or darker because it's made of natural wood

Lid design: without edges, with integrated magnets       

Comfortable taking off pills from pillbox cell

The capacity of each compartment (7 per pill box) is 11 Aspirin sized pills.

Each pill compartment size (WxHxD): 0.82x2.36x0.82in (2.10x6x2.10cm)

Pill Box Size (WxHxL): .14x1.18x7.71in  (8.50x3.50x19.6cm)

Pill Box Weight: 0.59-0.66lb (270-300g /depend of wood type)


   Top wood                         Wood natural colors
Wooden Pill Boxes Personalization
If you have any special requirements for the logo, please, let us know. We will gladly follow your request. 
Add Text means engraving your text. The location for it on one side of the base. If you want to change the text location, please tell us.
Personalized items cannot be replaced or returned.
More About the Wood Pill Box
Basically, wood is a natural living product it can be a little unruly; knots, streaking, other blemishes, and flaws in the grain can occur during the natural growth of the tree. We at JTNlab, believe these imperfections add a uniqueness to our products and LOVE us some rebellious wood grain or an interesting knot here or there that doesn't interfere with the use of the item. 
Thanks to special finishing wood become more durable and tight. JTNlab goods are finished with a combination of transparent natural waxes and oils, which makes the wood more durable and tight with a smooth to a touch effect. Every piece made of natural wood has unique shades and nuances, which are a mark of genuineness.
For longer use wooden goods, do not keep them in a humid place (such as a bathroom).  In such places, wood will absorb moisture and wooden goods will not work well and can change their appearance. Keep in mind that natural wood can expand and contract due to sudden temperature changes, and this will affect the functionality of the wooden goods. We recommend keeping the wooden goods in both warm and dry places that have no moisture.
Dried ash wood ( black wood )has its own specific natural smell that not everyone may like. Each JTNlab product is handmade, and may slightly vary in color, finish, and size.
Wooden goods are smooth to the touch, simply wipe with a damp cloth if it becomes dirty. 
What are pill boxes?
Pill boxes are small, covered containers that hold pills and other small objects. They usually have compartments for each day of the week, and can be used to store medication for both short- and long-term use. Pill boxes come in a variety of sizes, shapes, and materials.
Why pill box used?
There are several reasons why pill boxes are used. First, they can help to keep track of medication schedules. Second, they can help to protect medications from being damaged or lost. And third, they can help to ensure that patients receive the correct dosage of their medication. Pill boxes are an important tool for many patients and can make a big difference in their overall health and well-being.
Is it safe to use pill box?
Yes. Pill boxes are a safe and effective way to organize and store medication. By using a pill box, you can ensure that you take your medication at the correct time each day.

A pill box is a great way to keep track of your medication schedule, especially if you are taking multiple medications or supplements. It is important to remember that not all pill boxes are created equal - make sure to choose one that has compartments of the correct size and shape for your specific medications.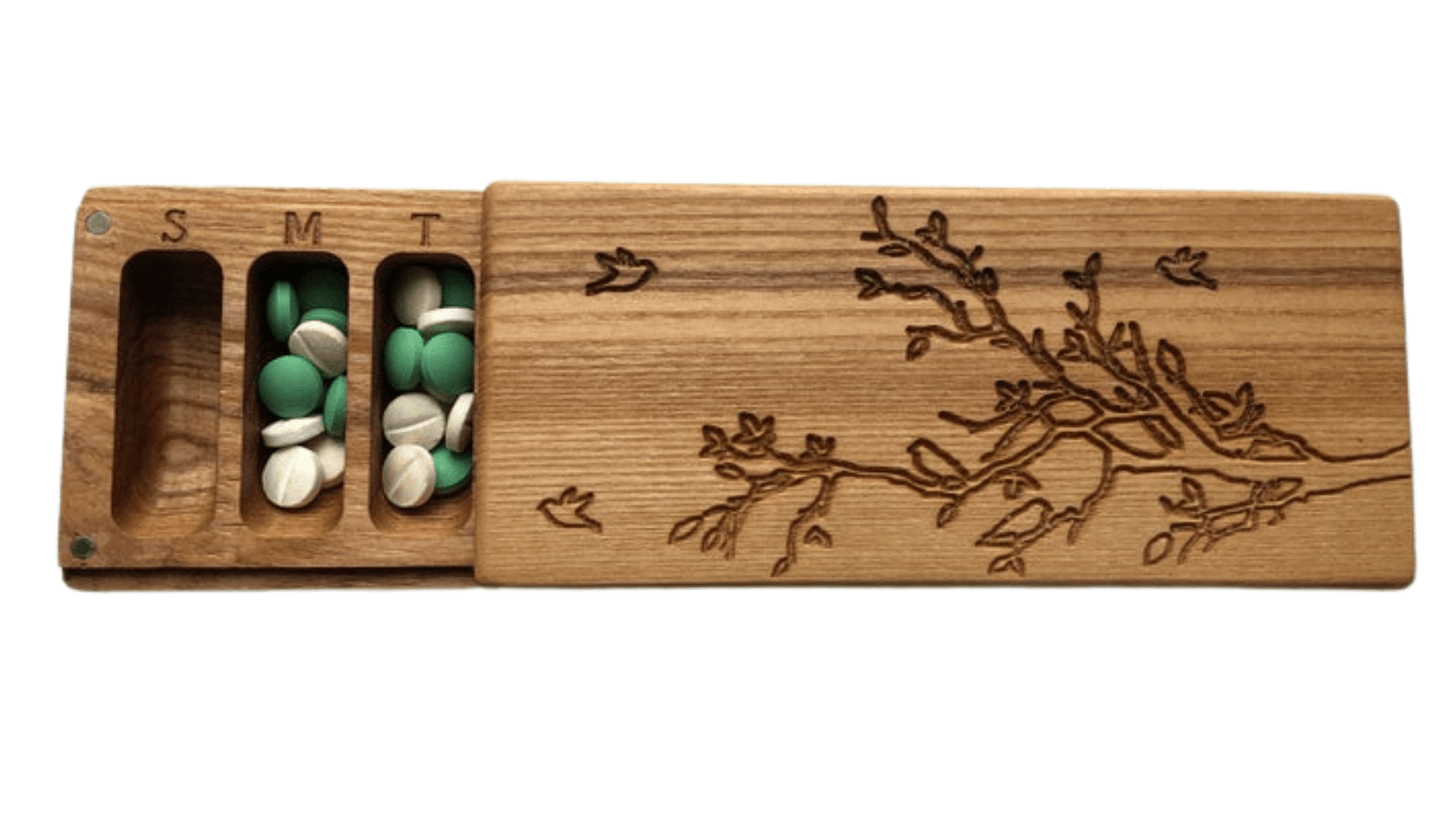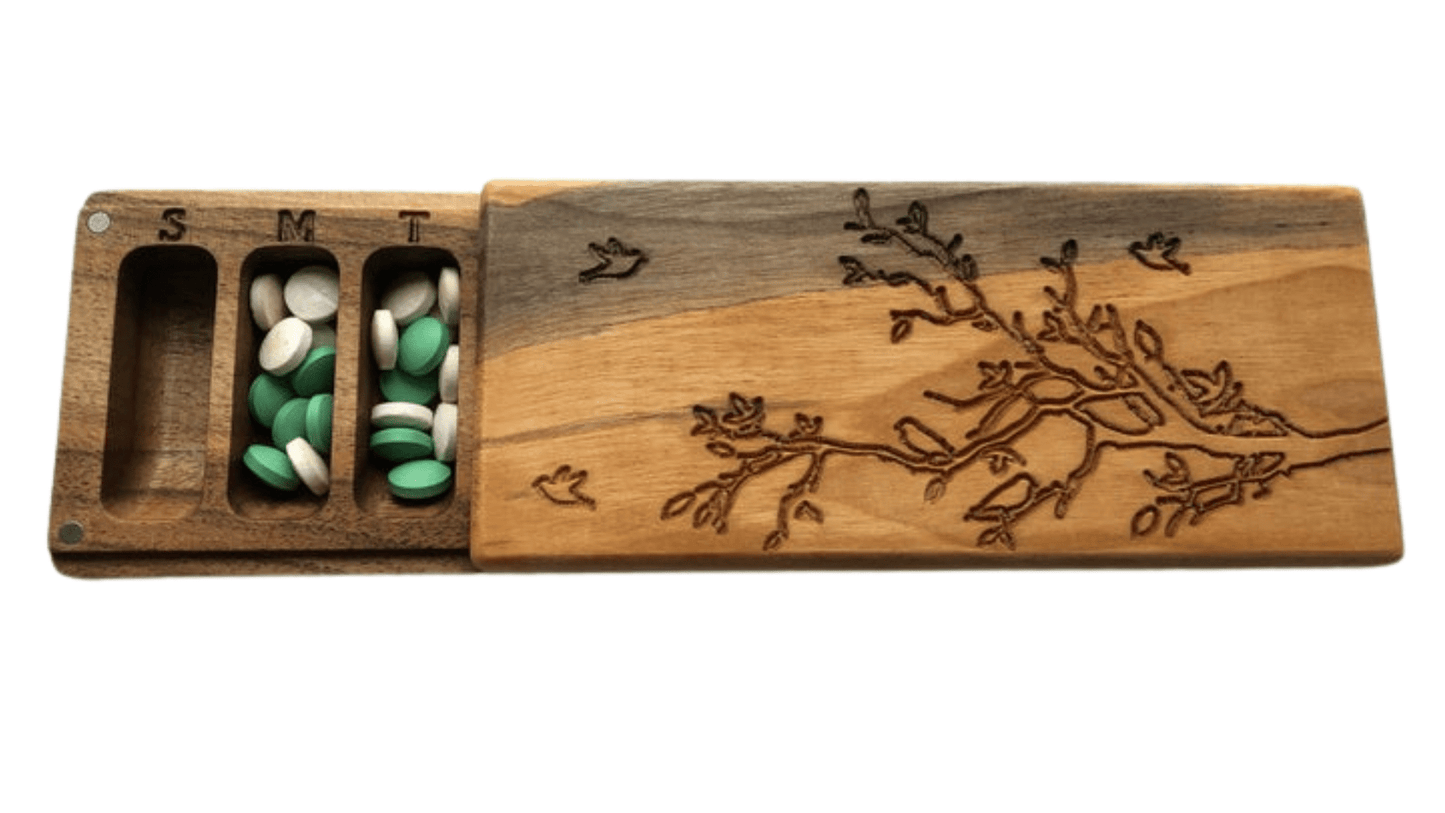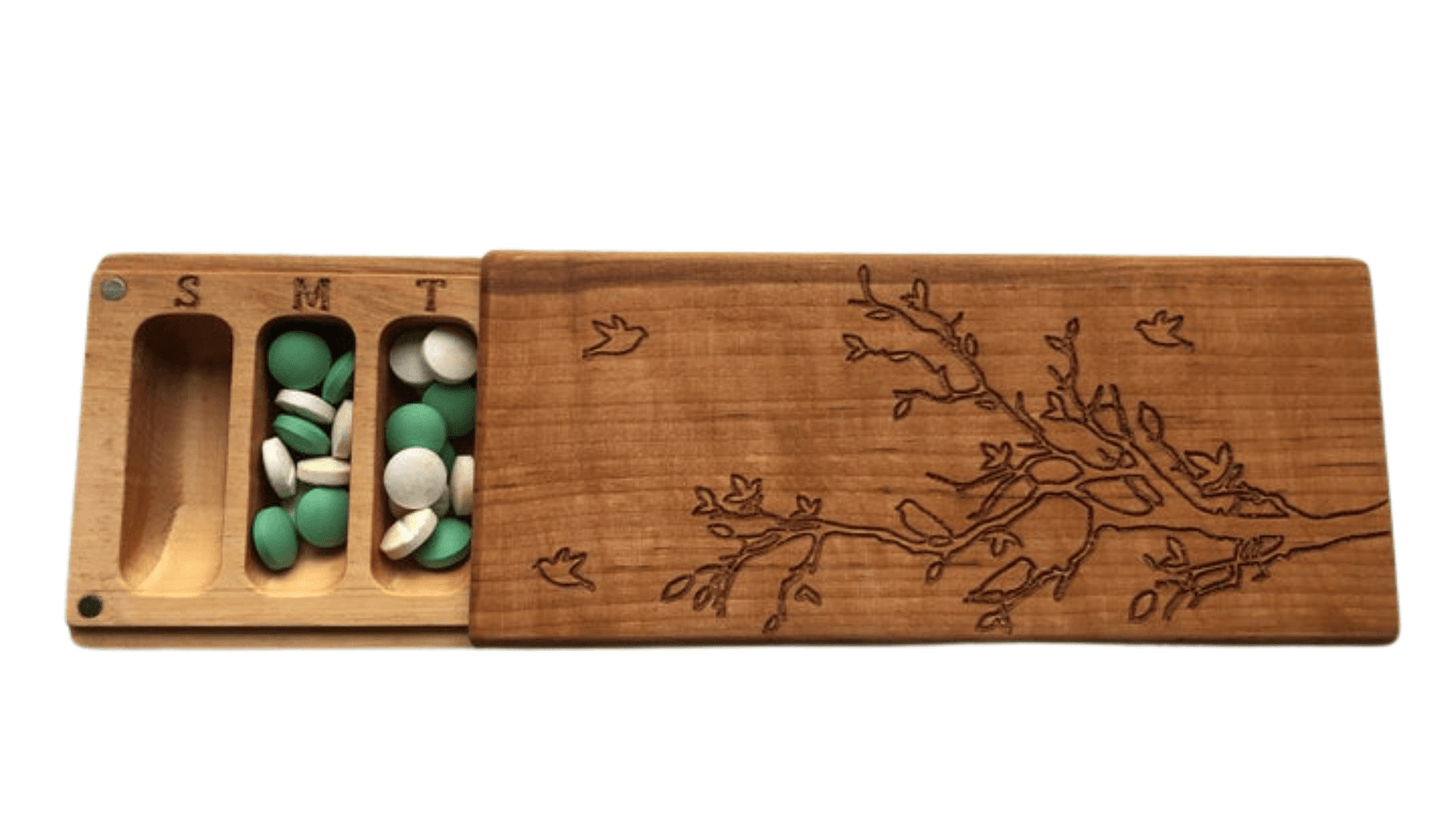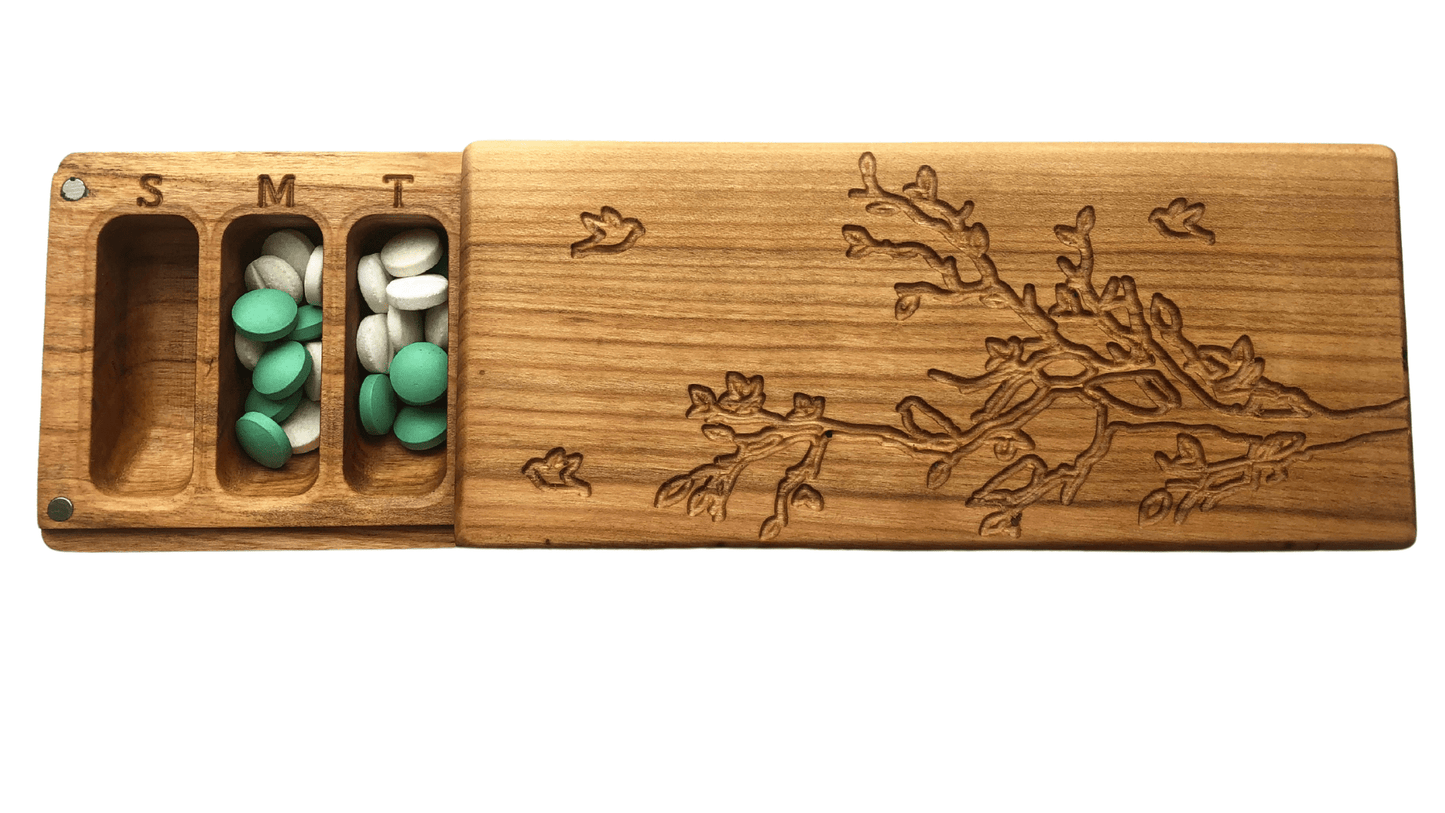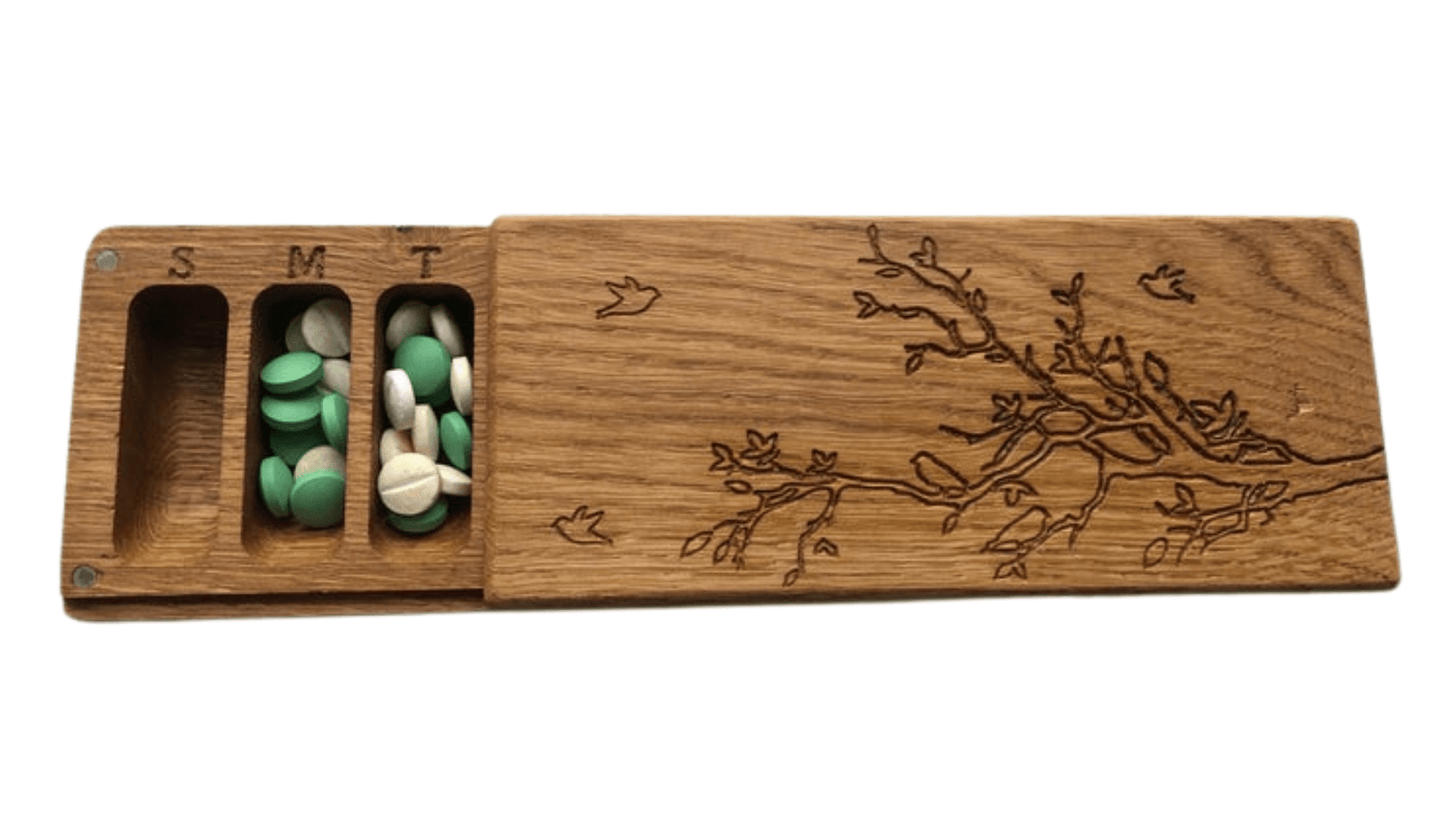 I have bought several pill boxes from Roman's shop, both for myself and as gifts for friends. They are well constructed, beautifully engraved, and environmentally friendly. Recommended Etsy shop, and an opportunity to support Ukraine during this challenging time.
This is the most beautiful pill holder I've ever seen! It has traveled with me internationally and the magnets held tight during travel!
The quality is beautiful- I have recommended it to anyone who needs to take multiple pills a day!
I also bought the dice box with this design since I was in the market for a pillbox too! Absolutely obsessed with it! Mine is the dark wood that was once offered. Very surprised how many pills each slot can fit, and it would have no trouble fitting a larger vitamin or fiber pill in addition to smaller daily medicines. The magnets are strong, too! Glad to have this with me every day and get some additional aesthetic enjoyment out of my daily meds time. :)
This pill box is great. It looks just as good as the pictures promised and the magnets are a neat little closing mechanism.